I broke my neck in 1982, aged 17 resulting in incomplete tetraplegia.  I have good muscle function in my right arm and leg, but not so much on my left side.  I just got on with my life after my injury, until my health declined for reasons I now know are related to ageing with spinal injury. 


In 2018 I was granted ill-health retirement from the Civil Service, I'm 53 now.  To help me get as well as I can be I started regular physiotherapy and exercise, including swimming and going to a local specialist gym.   


It's tough keeping up the motivation for fitness and therapy in isolation, so I was looking to find a team activity and was really pleased to stumble across a wheelchair rugby taster session at my local leisure centre, I loved it straight away. I was even more pleased to find there were enough other people interested that we could form a Berkshire club, and I've been involved ever since.  
Wheelchair rugby is a great sport, it it is very inclusive as it was designed for people with a range of disabilities, it is pretty technical so even when you are up against players with higher function you can be effective, and have fun, and it's a great complement to your existing fitness/therapy regime.  It is good to do a team sport, it keeps you motivated to improve yourself, and you don't always have to carry everything yourself as when you are doing an individual activity because you are part of  a team.   


Come and join us at one of our Saturday our training sessions, I guarantee you'll love it!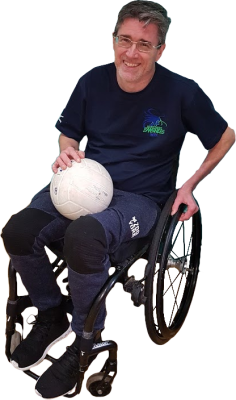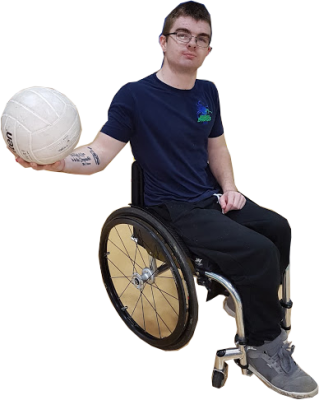 "I am Shane I am 22 and studying at Berkshire College of Agriculture. I have Cerebral Palsy and love wheelchair rugby and being part of Berkshire Banshees. Being part of the club has given me a sport I can take part in. It has also helped me socially to play a sport and be supported as a member of the team. I look forward to the training sessions and games"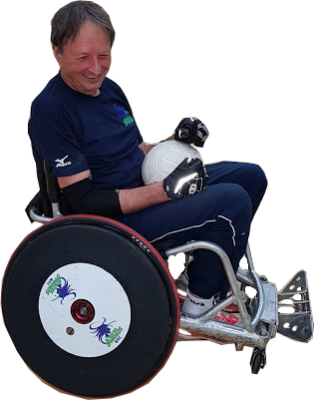 Ian has always enjoyed sport and wheelchair rugby allows him, despite the physical challenge, to play something as part of a team.  

"I had a stroke back in 2009 at the age of 55, which left me with right side weakness, speech and language problems.  I'm naturally right handed, but that hand no longer functions properly so I have to operate the wheelchair and catch/pass the ball with just my left hand.  I had a physical job, which I'm now unable to do, but I try to keep as fit as possible - as well as WCR I use the gym regularly and belong to a ski club for the disabled.

I'm involved because It's good to play a tactical game - I enjoy the competitive element.  It's great meeting new people of all ages."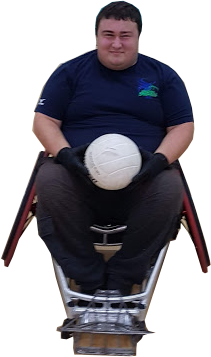 Seb was born with hip and foot deformities with muscle weakness /shortened achiles tendons and has arthritis. This makes walking very difficult and painful. He also has Aspergers which causes social avoidance and anxiety. 

Seb got interested in wheelchair rugby since the 2012 Paralympics. He has always been involved in disabled sport since an early age but as his condition deteriorated his mobility decreased and was unable to play. This affected his self esteem and his well-being.

Joining the BBWR team has been a lifeline for him to get back into competitive sports and being part of a team has helped him socially and given him a new passion.